For an increasingly better Internet in Brazil
For an increasingly better Internet in Brazil
The multistakeholder governance model of the Internet in Brazil, constructed by the Brazilian Internet Steering Committee (CGI.br), is recognized worldwide as an example to be followed. The Committee comprises twelve (12) representatives of civil society, representing nonprofits, the academic community, the business community, and a extremely well known expert on Internet matters, as well as nine representatives of the government. Configured in this way, the CGI.br holds monthly meetings and extraordinary sessions to coordinate and integrate all Internet services initiatives in Brazil, out of a desire to foment technical quality, innovation and dissemination.
Many responses to the demands for action arising from these meetings are conducted by the Brazilian Network Information Center (NIC.br), a non-profit civil entity that since 2005 has been assigned the administrative and operational functions relating to the .br domain.
In addition to providing and maintaining a domain registrar with quality service and revenue charged collected exclusively from this service, NIC.br goes beyond to similar entities in other countries, investing actions and projects provide a number of benefits destined for improvement of Internet infrastructure services available in Brazil.
NIC.br currently consists of five directors, four centers, and five consultants, and also houses the office of the Brazilian W3C (World Wide Web Consortium). Learn more about our actions and services below and see how we guide the development of the Internet so that its infrastructure and use show continuous improvement.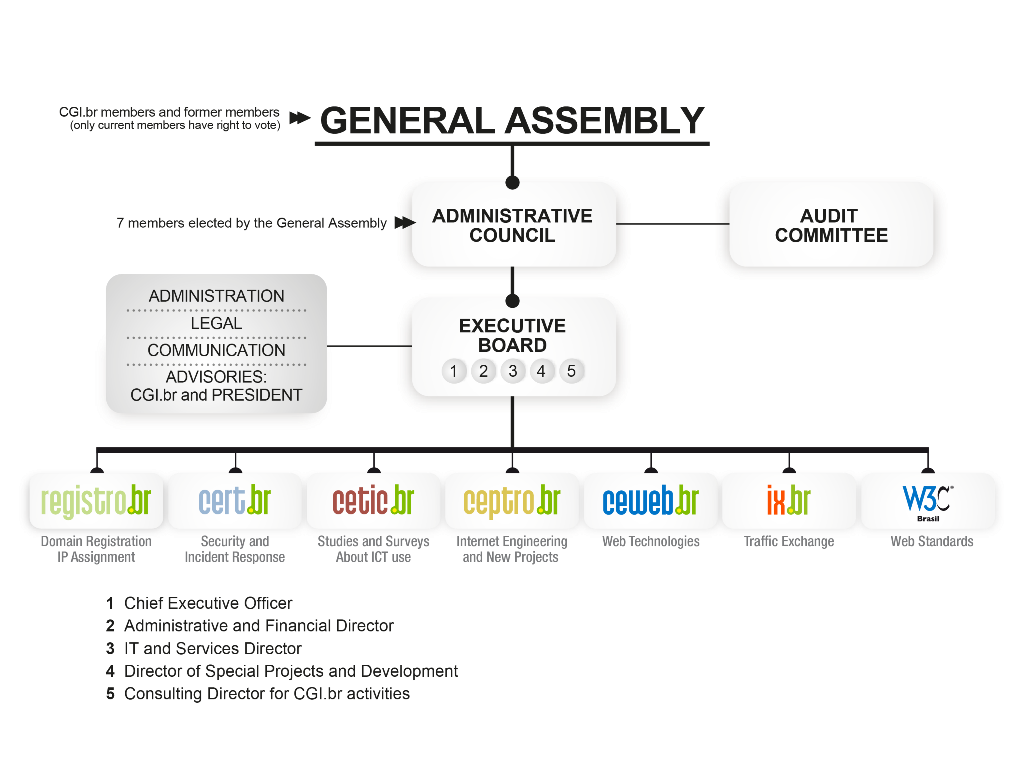 Chief Executive Officer
Administrative and Financial Director
IT and Services Director
Director of Special Projects and Development
Consulting Director for CGI.br activities

Registration of .br domains
Since 1995, Registro.br has been responsible for the registration of domain names and the management and publishing of DNS (Domain Name System) servers for over 3 million registered .br domains, as well as providing services for the distribution and maintenance of Internet addresses. Unlike in most countries, the Brazilian registry is responsible for managing both names (yourdomain.com.br, for example) and IP numbers (for example, 200.160.5.17).
In order to do this, Registro.br maintains a team of highly qualified professionals, who are constantly analyzing and developing new tools to enhance the system of registration for Brazilian domains and maintain technological leadership in the area.
DNSSEC is an international standard that extends DNS technology and adds a resolution system of safer names, reducing the risk of data manipulation and information. On receiving a "target name" to achieve, the computers do not know beforehand which (IP) address is associated with that name. The translation of such information is a task for the Domain Name System (DNS), distributed from the root of the network to thousands of computers that will be responsible for resolving the address of a location on the network, after determining who is eligible. Because DNS is not immune to interference from malicious third parties who may pose as a legitimate member of the DNS structure and provide deliberately inaccurate information, DNSSEC was deployed to ensure that the path to be followed is correct.
The deployment of DNSSEC across the network, from the DNS provider to the computer that generated the query, ensures that the domain name entered by the user will take him or her to the desired network location. All .br domains may deploy this technology. In some TLDs (Top Level Domains), this use is mandatory (.b.br, .jus.br, .leg.br and .mp.br), while the use in others is optional.
Registro.br also operates and maintains the services of the entire database of allocations of IP blocks from LACNIC (www.lacnic.net) for Latin America and the Caribbean. NIC.br and LACNIC signed a cooperation agreement according to which IPv4 and IPv6 networks (ASNs)
for Brazil remain under the responsibility of NIC.br , while LACNIC serves as the regional registry for Internet addresses for other countries in Latin America and the Caribbean.
We also operate mirrors for some Internet root servers. This improves the quality of Internet access by Brazilian networks, since information on the Internet root is physically closer.
In other words, a millisecond seems like a very small duration, but it is equivalent to one thousandth of a second. Under perfect conditions, one bit of information can travel a maximum of 300 km in a millisecond. If some information was added or updated in the Internet root and a user located in southern Brazil needed to access it through a root in Miami, for example, he would wait up to 20 times longer to receive this information than to access a copy of that server in his region. Copies of root servers save time and improve bandwidth usage within the same locality.
The Internet Corporation for Assigned Names and Numbers (ICANN) is an international management body of Internet names and numbers, which approved the creation of new generic top domain names (gTLDs). The measure will provide opportunities for communities, trademarks and everyone interested in being recognized on the Internet with their own domains.
NIC.br reaffirms its commitment to the Internet in Brazil and makes itself available to guide Brazilian organizations interested in this process through each of the steps necessary for the creation of new gTLDs.
If your organization considers important participating in this process (such as, for example, creating the domain "www.yourcompany.com" or "www.yourorganization" or "www.yourcause" - without ".com", ".com.br" or any extension), consider using the NIC.br support as an option, since it has over 20 years of technical experience in this area.
IP = Internet Protocol = Sequence of numbers that identifies a device connected to the network, available in versions 4 or 6.
When you have an idea to start a project, company or event, one of the first steps is to decide the name and area of operation of your business. At Registro.br, the same decisions are made.
Before you create the Web site for your project, business or event, you can choose a domain name from more than 60 categories available for registry, such as ".com.br" for commercial activities, "blog.br" for weblogs or "edu.br" for higher education institutions.
The .br extension is an ID for domains registered in Brazil. A network address that contains a "suffix" will be easily recognized anywhere in the world as a Brazilian domain, leaving no doubts about its origin. In addition, 93% of the companies in Brazil have a website using ".br" domains. Sites are essential parts in any type of business or company, and making it clear that your Web site is Brazilian reflects the trust that users will have when accessing it.
Currently, Registro.br has registered more than 3.3 million domains in its database, since 1989. Having a .br domain means that you are Brazilian and it identifies you on the map!
www.registro.br

The Brazilian Computer Emergency Response Team (CERT.br)is a National team responsible for handling security incidents involving Brazilian networks connected to the Internet. CERT.br also works to raise awareness about security issues, perform analysis of trends and assist in the creation of new Computer Security Incident Response Teams (CSIRTs) in the Country. These activities have a strategic goal to increase levels of security and incident handling capacity in Brazil. CERT.br's lines of action include the following initiatives:
The group acts as a focal point for incident reporting, facilitating contact between the involved parties and promoting the necessary support in the response process, through a collaborative work with other entities including other Computer Security Incident Response Teams (CSIRTs), companies, universities and ISPs worldwide.
Public statistics of handled incidents and complaints of received spams have been updated periodically since 1999 and are available at http://www.cert.br/stats/. These notifications are voluntary and reflect security incidents in networks that spontaneously sent these reports to CERT.br.
CERT.br develops supporting documentation for system and network administrators and for Internet end users, as well as organizes meetings with various sectors of the Internet in Brazil, in order to facilitate the cooperation and implementation of security best practices. These efforts also translate into materials available to end users, such as the Internet Security Booklet, the Antispam.br campaign and the InternetSegura.br portal.
The Internet Security Booklet contains recommendations and tips on how end users can increase their Internet security. The publication has a print version, in addition to PDF and ePub formats, which can be accessed at http://cartilha.cert.br. To facilitate discussion of some topics from the booklet and the diffusion of specific content, fascicles are available periodically. Each is accompanied by a set of slides that can be used to give lectures or supplement classes
Antispam.br portal, which emerged within the CGI.br Anti-Spam Working Group (CT-Spam), is led by CERT.br and it is an important reference on countering unwanted e-mails and messages, also known as spam. This site is committed to inform end user and network administrators about the implications of spam, as well as ways of protecting against it.
The healthy, correct and safe use of networks connected to the Internet, as well as the work of educating users through simple and fun videos are the goals of Antispam.br, which informs users about the dangers to which they are exposed, and also offers tips on how to navigate more safely on the Internet.
www.antispam.br
Conceived by CGI.br and the Padre Anchieta Foundation/TV Cultura, the InternetSegura (www.internetsegura.br) portal was created to bring together the major Internet security initiatives in Brazil. Thus, the portal aims to facilitate and speed up public access to information.
Currently, InternetSegura.br is coordinated by CERT.br and covers issues related to the integrity and security of information, safe surfing, e-commerce, internet banking, and ways to protect the user's personal information (privacy).
Training in the area of Security Incident Response is offered to CSIRT members and especially to institutions that are creating their own groups. Hundreds of professionals are trained annually by courses licensed from the Carnegie Mellon University, brought to Brazil at cost price:
Overview of Creating and Managing Computer Security Incident Response Teams (Overview)
Fundamentals of Incident Handling (FIH)
Advanced Incident Handling for Technical Staff (AIH)
Certificates for the CERT Program official courses, awarded by CERT.br, have the same validity as those issued directly by Carnegie Mellon University. Participants may also receive Continuing Education Units (CEUs). More information about the courses is available at
The projects in the trend analysis area allow CERT.br to identify not only new malicious activities, but also an overview of the threats that may affect networks connected to the Internet.
Honeypots are computers configured to emulate certain operating systems and services. When an attacker attempts to abuse one of these honeypots it will be interacting with programs designed to make him believe that he is attacking a real system. Thus, no attack is actually successful, and only the data collected in the attack process will then be analyzed by a central server.
Through the deployment and maintenance of distributed honeypots in different networks in the country, CERT.br increases the capacity of incident detection, event correlation and trend analysis in the Brazilian Internet space. The data collected by these honeypots generate daily public statistics and the notification of the networks that originate malicious activity. Learn more at http://honeytarg.cert.br/honeypots/.>
Low-interaction honeypots installed in several countries are used to obtain data on the abuse of the Internet infrastructure by spammers. Learn more at http://honeytarg.cert.br/spampots/. Honeypots Location
www.cert.br | Twitter: @certbr

Research on the use of ICTs in Brazil
The Center of Studies on Information and Communication Technologies (CETIC.br) coordinates and publishes national research indicators on the availability and use of Internet in Brazil. These studies are a reference for the elaboration of public policies that ensure popular access to Information and Communication Technologies (ICT), as well as to monitor and evaluate the socioeconomic impact of these technologies.

The Center of Study and Research in Network Technology and Operations (CEPTRO.br) is responsible for actions to improve the quality of the Internet in Brazil and disseminate its use, with special attention to the technical and infrastructural aspects. Check out the main activities and projects:

The initiative to house W3C in Brazil is an investment in the evolution of the web and its use in an organized and responsible manner, to which Brazil contributes in pushing the Web to its full potential for everyone, on any device, anywhere, in any culture, safely and reliably!
W3C is an international consortium that develops protocols and guidelines that ensure the growth of the web in the long run. In order to do that, it debates and proposes standards and guidelines that ensure its continuous evolution and universality. Dozens of standards have been widely published and discussed, since the HTML and CSS standards, to the XML standards, accessibility, mobile web, web services, semantic web, open data, privacy and security. The standards are published in the consortium known as W3C Recommendations.
The W3C Office in Brazil promotes coordinated local activities with universities, government agencies, businesses, researchers, communities of developers, users and stakeholders around the use and development of Web technologies. In addition to editing and publishing the recommendations and documents of W3C in Portuguese, the Brazilian office organizes the annual Web.br Conference and meetings of professionals in order to maintain an open forum for discussions on the Brazilian web.
To promote an Internet without barriers for people with disabilities and ensure universal access to content, regardless of physical or technological limitations: this is the goal of W3C Brazil when instigating various actions in favor of web accessibility.
"Web Data" means an effort to encourage the provision, in open and accessible format, of data that can be used, reused or remixed with other databases to generate knowledge, information, services and products.
W3C Brazil has developed a series of activities to promote and guide the publication of this type of data, in a standardized and sustainable way for organizations, and the development of a strategic policy for the subject and related themes.
Led by W3C Brazil, together with members of the British government and one of the leaders in the data field from IBM, the group promotes the web as a platform for intelligent interconnected data, transcending a simple file repository.
Web data allows people to use the tools, concepts and work flows to which they are already familiar to benefit from networks created by the standards of openness and interoperability that support the Web.
The Open Data for Development in Latin America and the Caribbean (OD4D) project encourages the promotion of open data as a public policy. The OD4D portal was created in Portuguese, English and Spanish with the goal of promoting discussion and generating and disseminating material on the subject. It works as a platform for discussion and a repository of information to improve the quality of public policies in the region. Besides content such as manuals, guides, papers, lectures, seminars and workshops, the site also allows society to collaborate with content and provides the Open Data Tool Kit, which includes booklets, videos and reference links on the topic.
The amount of government data that can be published in an open format is as great as the demand for services that use these data to improve the lives of those who live in cities. W3C Brazil has signed, through the Brazilian Internet Steering Committee (CGI.br) and the Brazilian Network Information Center (NIC.br), cooperation agreements with the Ministry of Justice, the state government of Rio Grande do Sul, the Ministry of Planning (Secretariat of Logistics and Information Technology – SLTI) and UNESCO, onto the project "Active Transparency and Open Data: Fostering Active Participation of Civil Society", in partnership with the Brazilian Office of the Controller General (CGU).
These agreements foster practices that open public data up to these and other government entities through specific actions such as developing competitive examinations, producing explanatory videos and active training of governmental entities in the subject of open data. In addition, cooperation agreements influence strategies for opening data through the integration of areas, and promote discussions among governments, academia and civil society.
According to Tim Berners-Lee, "the Web is crucial not only to the digital revolution, but to continued prosperity and individual freedom as well. Like democracy, the Web should be defended and preserved". The Web is the most powerful tool of Internet interaction. This is where direct exchanges between people, organizations, governments and resources happen.
The Web is now being built by the Open Web Platform, a set of technologies developed by the World Wide Web Consortium, along with other partners, and launched in 2011 by W3C CEO Jeff Jaffe, as "a platform for innovation, consolidation and efficiency" for the Internet.
W3C Brazil seeks to encourage the development and adoption of technologies for this platform by the Brazilian developers community, with the goal of turning Brazil into a competitive stakeholder in the use of web technologies for innovation and value creation. Within the scope of this mission are participation in workshops and events, the fostering of education and self-learning, and the generation of knowledge on how to develop standards for the open web platform on a national scale
www.w3c.br
facebook
|
twitter
| identi.ca: w3cbrasil